Regular price
Sale price
$14.99 CAD
Unit price
per
Sale
Sold out
The Shunga cleaning spray is your best ally for maintaining the appearance and optimizing the lifespan of your favorite intimate accessories. It has been designed to effectively clean and remove lubricant and other impurities, without leaving any residue. Its gentle formula is safe to use on all types of toys and skin.
Description and use

Spray, leave for 30-60 seconds, wipe with a soft cloth or rinse with lukewarm water and air dry.

Keep out of reach of children.

Note: This cleanser is not a contraceptive. It is not spermicidal. Avoid contact with eyes and irritated skin.
Ingrédients

Water (Aqua), Propylene Glycol, Capryl glucoside, Aloes Vera (Aloe barbadensis leaf juice), Peppermint oil (Peppermint (Mentha Piperita) Oil), Ethylhexylglycerin, Benzylalcohol, Benzalkoniumchloride, Citric acid, Vitamin E (Tocopherol). <5%: Surfactant.
Dimensions and quantities
Care Instructions

Store your bottle of cleanser in a cool, dry place out of direct sunlight. Avoid extreme temperature variations. Use the cleaner according to the manufacturer's instructions. Avoid all contact with eyes. If an allergic reaction or irritation occurs, discontinue use immediately. Check the expiration date indicated on the bottle. Use the cleaner within the recommended time frame to ensure optimal effectiveness.
Guarantee

Due to its special nature, this product does not benefit from any warranty.
View full details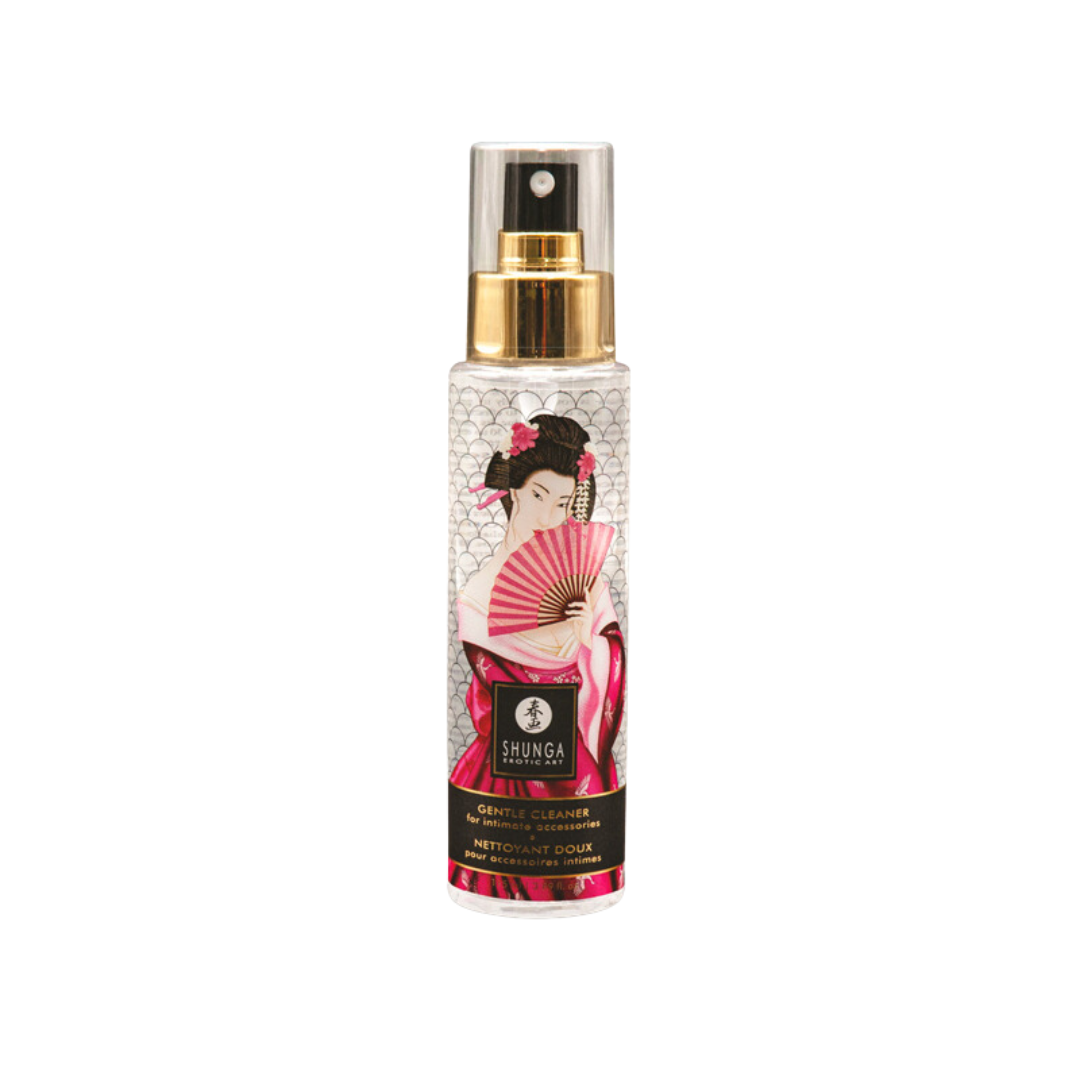 Why choose Shunga products?
This magnificent company, founded in 2000 in Montreal (Quebec), has always created its products with the idea that making love is an art. The very distinctive packaging is covered in Japanese shunga art, adding a touch of eroticism and elegance to their design.